'A
Secret
Sigh'
is
my
 9th
 solo album
project
.
Publication
by
GatewayMusic
:
8
.
October
2016
The album 
consists
of
12
 original compositions
.
.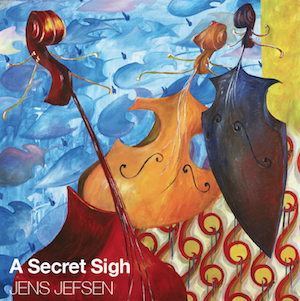 Musicians in addition to yours truly on acoustic bass:
Christian
Gerber
bandoneon 
Hans 
Esbjerg
 keyboard

Jakob 
Buchanan 
fluegelhorn

Jullie
Hjetland
vocals

Maria
Edlund
cello

Michael
Bladt
clarinet
,
alto flute
and
 tenorsaxophone

Morten Lund
drums
and
percussion

Oskar
Jefsen
vocals

Uffe
Steen
guitar
.
Newsletter (pdf)
Highlights (pdf)
Booklet notes (pdf)
'A Secret Sigh' samples (Soundcloud)
Review by Mark Sullivan, Allaboutjazz.com
Veteran Danish bassist Jens Jefsen could be a one-man band, but instead he accomplishes a rare feat here: a bass-centric recording that does not sound like a "bass album." Each track includes multiple bass parts—pizzicato and arco—along with percussive bass sounds and other percussion by Jefsen. While this description may sound like an endless bass solo, the music is carefully arranged instead, with the bass often taking a lyrical lead role. And all but one of the tunes includes at least one of the nine featured musicians, providing a constantly shifting group sound.
The opener "How You Like Your Egg" is a catchy contemporary jazz tune employing a lead bass part with a bass ensemble, along with drums and percussion from Morten Lund, and a bit of accompaniment from guitarist Uffe Steen. Later Steen steps out with memorable solo, and there's even a brief bit of vocalise. "Bashtag" features call and response from clarinetist Michael Bladt and bandoneonist Christian Gerber; Gerber also duets with vocalist Julie Huetland on "Crying Wine." Cellist Maria Edlund provides counterpoint on "Behavior Modification," both strings playing over an insistent ostinato from Jefsen.
"Benefit Of Waiting" shows how effective Jefsen's "bass percussion" can be, as he turns in a convincing conga imitation during keyboardist Hans Esbjerg's solo (along with swinging walking bass). He does it again on the aptly titled "Wood And Salsa." "Condash" is another track with a full band sound. Bladt's saxophone takes the lead (as well as a fine solo), with Lundt's drums providing a true rhythm section feel—nice bit of keyboard accompaniment from the leader as well. The title tune has a haunting theme, Jefsen's bass doubled by Oskar Hougaard Jefson's vocalise. "Bass Meets Saw" is the only tune with no other musicians, and is exactly what the title says. In this case it's a musical saw, not the sound of a double bass being cut in half (something I would not put past Jefsen's occasionally puckish sense of humor).
A diverse and often fun album, and a splendid showcase for Jefsen's composing, bass playing, and "other weird stuff…" (as the credits would have it). Highly recommended to double bass fans, but there's plenty here for any contemporary jazz lover.
december 3.- 2016
Salt-Peanuts.eu v/ Eyal Hareuveni:
Link

Veteran Danish double bass player and music educator Jens Jefsen performed with some of the greatest American jazz  musicians – Dizzy gillespie, Dexter Gordon, Ben Webster, Johnny Griffin and Roy Eldridge, among many others, still, his own definition of jazz is much more inclusive. Jefsen ninth solo album, «A Secret Sigh», offers his unique vision to a bass-centered jazz album that does not sound too much deep-toned.
Jefsen began working on this album in his mini studio, recording 12 original compositions, himself playing alone multiple parts on the double bass, basic rhythmic patterns and leading roles. Then he invited to his studio nine musicians – among them drummer Morten Lund and trumpeter Jakob Buchanan, one at the time, and asked them to add their «fresh charm» to the basic solo bass pieces.
The diverse and intimate pieces stress Jefsen playful approach, commanding but with a sharp sense of humor, tasteful and nuanced and always rooted in strong rhythmic basis but certainly not bound to the strict, archaic role of time keeper. Jefsen concise compositions follow straight-ahead song-like structure. Few piece stand out – the duet with cellist Maria Edlund on «Behavior Modification», as she contrasts Jefsen rhythmic approach with looser, lyrical improvisation; the amused, nuevo-tango of «Crying Wine» with bandoneon player Christian Gerber and vocalist Jullie Hjetland; «Amygdala», the contemplative duet with Jakob Buchanan on flugelhorn; and the playful, game-like solo «Bass Meets Saw».

Jens Jefsen (b, keys, wine glasses, saw, shaker, v, perc), Christian Gerber (bandoneon), Hans Esbjerg (keys), Jakob Buchanan (flh), Jullie Hjetland (v), Maria Edlund (c), Michael Bladt (cl, afl, ts), Morten Lund (dr, perc), Oskar Jefsen (v), Uffe Steen (g)